Free Transgender Chat
Trans chat for the entire gender spectrum
Transexuals, crossdressers, transgender, t-girls and cisgender friends
Your free transgender chat and social network, where you can meet trans friends for peer support or enjoy a fun social experience with both trans and cisgender folks. We welcome everyone who identifies as transgender including transgender, MtF, FtM, crossdresser, transsexual, pre-op, post-op, non-op, drag queen, non-binary, etc. Significant others and cisgender trans community friends are welcome also. It takes 30 seconds to join and our transgender chat is always 100% free.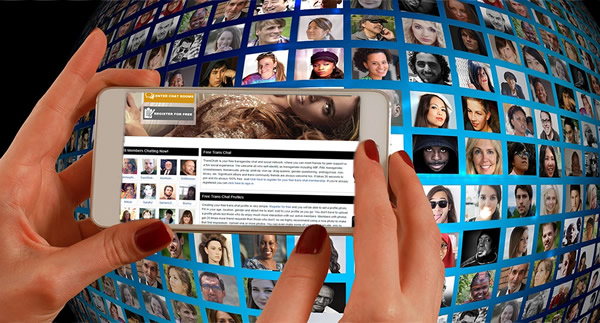 Free Transgender Chat – Powered by TGGuide.com
NEW!

Transgender Chat and Social Network

TRANSGENDER CHAT COMMUNITY & SUPPORT: We have thousands of transgender community members and friends. Trans chat is a great way to explore your place in the transgender community. Come join us in a safe, welcoming environment and meet new friends! We have chat rooms designed specifically for the transgender community and trans support rooms.

TRANSGENDER ADMIRERS: If you're an admirer or want to engage in naughty chat we have you covered too. Just sign up and look in the Transgender chat rooms list for adult-themed rooms just for you!

We've created a Transgender chat room and social network platform with something for everyone. We don't have a lot of chat rules but we need a few to be sure the chat flows smoothly. Please read through the chat rules and make sure you follow them. Join the conversations and get to know everyone. There are some great transgender folks and community friends who will be happy to chat with you. Click here to sign in or join transgender chat – it's always free!
Free Transgender Chat – You Must Agree To The Rules Stated Below
Transgender Chat Rules: The trans chat room is frequently monitored by moderators who may or may not identify themselves as staff members. You must abide by their instructions at all times. We try not to be overbearing but some simple rules are needed to ensure a sense of safety and a free flow of live chat.
1. You must be at least 18 years of age per the site rules.
2. Name-calling, harassment, racism, bigotry, and general disrespect towards other chatters is not permitted.
3. Do not publicly or privately post any personally identifying information or private conversations.
4. Conversations involving politics and religion are allowed only in the Politics and Religion & Spirituality rooms, respectively.
5. Arguing with chat moderators is not permitted.
6. Please block members who cause problems or with whom you have personal issues.
7. Do not post Craigslist style ads in the lobbies. (eg. 24/looking for phone or cam fun. etc.) Use topic rooms for these kinds of chat requests.
8. Do not spam or flood the room.
9. Cybering in group/public chat is only allowed in the adult-themed rooms.
---
Security is important to us. We installed a Comodo SSL certificate for your safety. Always look for the green bar and/or lock in your browser's URL bar.
---
Tips for Admirers of Transgender Women:
Thank you to Amber Lynn of TGGirlfriends for this excerpt from her "T-Girl Dating Guide"
T-girls are special – Femininity is a tremendous satisfaction for t-girls and most love the attention of a gentleman admirer. Notice the word "gentleman." When a t-girl feels that she is being treated with the dignity and respect befitting a lady she is in heaven. Make a t-girl feel like a lady and you're well on your way to success! Some of the men I have spoken to tell me that nobody else can make them feel the way a t-girl can make them feel. I think it would be a safe guess that these guys know how to treat a t-girl like a lady. t-girls really are special and they can make you feel special too!
Understand that not all t-girls are the same – It is important that you have at least a basic understanding of the various types of t-girls. A common mistake is to assume that all t-girls are the same. This is a risky business and your misunderstanding could cause you to miss out on an opportunity to meet the lover of your dreams. Some t-girls are heterosexual male crossdressers. They simply aren't interested in men, so perhaps you shouldn't waste your time. Others are bisexual (your chances are improving here). Some t-girls are looking for men, others are looking for women. Some are seeking sex changes, and others are not. Some live full-time as females, others live part-time as females. Confused yet? You really shouldn't be. T-girls fall somewhere within a broad spectrum. Read or listen as t-girls describe themselves and you will gain insight into exactly where they are in their life and where they intend to go. A dialog should be able to resolve any remaining questions you might have. Remember that you're looking for someone who will complement what you're looking for and your job is to narrow the field to those who are looking for someone just like you!
Use proper terminology – You will quickly learn that not all t-girls like being called shemales. While some of us don't take exception to the term, it is an error in terminology that can quickly send you packing. Indeed, many well-intentioned admirers have struck out simply because of a misguided attempt to be friendly. Here is a good rule to follow; Don't refer to anyone as a shemale, transsexual, transvestite, etc. until you have asked what she prefers to be called. A politely worded inquiry should prompt a t-girl to let you know exactly what term she considers most appropriate. If you must use a term, rather than a person's name, perhaps the term transgendered is the least offensive of all the terms. This is a generic term that fits most t-girls and is rarely offensive.
Play it safe! – You must screen your t-girl friends just as you would screen any other potential friends or lovers. Do they possess undesirable traits such as drug addiction, alcohol abuse, criminal intent, HIV+, etc? Remember that you must protect yourself. Safety is a very important consideration that cannot be overlooked just because you have a raging hardon! The subject of safe sex also cannot be overemphasized. We believe in the responsibility of all people to engage in safe sex. This means getting to know someone before you hop in the sack, using condoms and periodic testing for sexually transmitted diseases. Have fun, but play it safe!
---
Find More To Love!
There is an entire world to explore. Find more people to socialize with, find more resources, and find love in all the right places. The sky is the limit!